This is a very nice Architectural wall panel that we created. The material is hard wood and was cut using our CNC router. We work with a lot of Architects for various projects ranging from this panel to site models, and much more.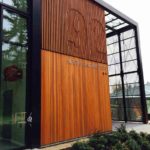 This was an installation we did earlier in the summer. The images are etched with our CNC Laser, and then placed in a custom built frame made from real hardwood. We handled everything from the first step of image selection to installation, and clean up.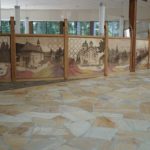 This balcony is a shining example of our fabrication and architectural skills. We can create beautiful designs to fulfill your needs, or we can take a pre designated design and replicate it. We work on many different models including desks, tables, chairs, and much more.