Where we keep you updated on our fun projects
This is a recent project we did on the CNC Router. The figure is from a few pieces of wood glued together, and sits about four and a half feet tall. We also made a base for the figure to sit on. The detail on the figure has a life like quality to it. This …read more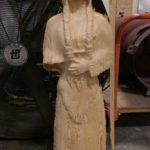 This was an installation we did earlier in the summer. The images are etched with our CNC Laser, and then placed in a custom built frame made from real hardwood. We handled everything from the first step of image selection to installation, and clean up.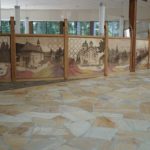 Quick update with our most recent project on the CNC Router. The fine texture in this piece just draws you in. Our precise router makes easy work out of this fine textured surface.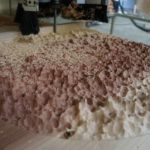 Just finished up a great piece of a family portrait etched into MDF board.  The photo worked great for the strengths of our laser with nice dark and light tones to really make a nice contrast. The project is actually quite big at about 36 inches in diameter.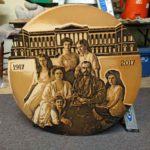 Look at these wonderful wooden mannequins created on our CNC router. These are cut from one solid piece of wood then sanded down to a workable finish for the client. The figures are all identical thanks to the precision our router can achieve.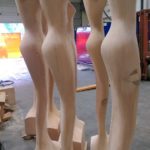 Just a quick update on what we have been creating with the CNC Router. These are three small wooden coffee tables freshly cut from one solid piece of wood. This project is a great example of the capabilities of our CNC machine. Not only can we work with sheets of plywood and other materials, but …read more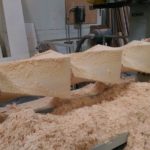 This balcony is a shining example of our fabrication and architectural skills. We can create beautiful designs to fulfill your needs, or we can take a pre designated design and replicate it. We work on many different models including desks, tables, chairs, and much more.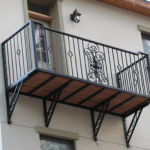 Here at Art and Industrial we strive to be the best Foundry in Seattle. We primarily work in Bronze, but can work with other metals as well. Further more we can scale a sculpture to a larger or smaller size, repair, or start from concept and work to the finished product. We use both traditional …read more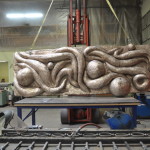 Our brand new laser is the perfect machine to cut materials where precision is essential. We handle sheets of metal and wood for etching and cutting. Projects range from burning images into various materials to cutting them into different shapes, or both. The burned in images on wood have a photo-realistic quality. Perfect for big …read more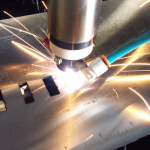 Our laser can cut and engrave a variety of materials including wood, plastic, acrylic, plexiglas, metal, and much more. The laser also has the capabilities to engrave and cut in 4 axis. For example we can accurately engrave a glass vessel using a special attachment that spins the bottle while the machine is in …read more